52 Super Fat spoke front wheels for Sportster 48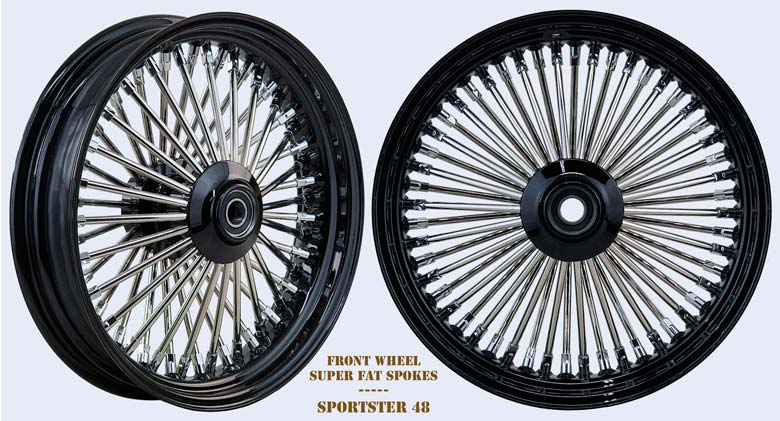 Special order. Available in 16x3.5, 18x3.5, 21x3.5. Custom finishing.
40 and 60 spoke wheels for Indian Scout and Chief
We are offering now 40 and 60 spoke wheel configurations to fit Indian Scout and Chief.

Wheels for Indian Scout with up to 160 tire are a direct raplacement. For a 180 or 200 tire fit our wheels are a direct replacement but fender has to be removed or replaced with a custom one.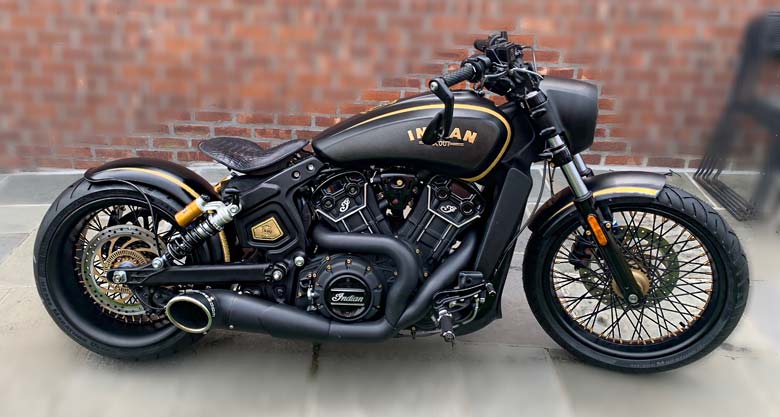 For an Indian Scout 240/40-18 rear tire with stock swing arm we offer a wheel kit. Our kit includes all nessesary spacers for fitment.
New Big Fat tire for front and rear
HD Wheels offers a new 21x5.5 and 23x5.5 Apollo-SL aluminum rim to fit 180/50-21 and 180/50-23 tire.
Hydrographics print on rim and hub

HD Wheels offers a new type of finishing option for motorcycle wheels. This new technique is based on Hydrographics printing. Achieving a desired finish requires three steps. Initially the rim or a hub is specially treated and a base color coat is applied. Next, a desired pattern print (carbon fiber, wood grain, flame imitations or art design) is adhered to get a needed look. After careful examination everything is sealed with a very high quality hard top clear coat to withstand road abuise.
Custom spoke wheels for Beringer Inboard System
New series of custom wire wheels build to run with Beringer Inboard brake system. Beringer has adapted aircraft braking technology for motorcycles. Per Beringer's calculations the system delivers three times less gyroscopic inertia, a 20% stopping power increase (over a single disc setup) and about 1 lb total weight reduction. All the above is being complimented by very unique look. Specially designed hubs allow from 40 to 120 spoke configuration which you can use either with single or dual brake rotors. Our wheels feature steel or aluminum rims, billet aluminum hubs, and stainless steel spokes with almost infinite configuration options of style and finish. Do not hesitate to contact us for any additional information.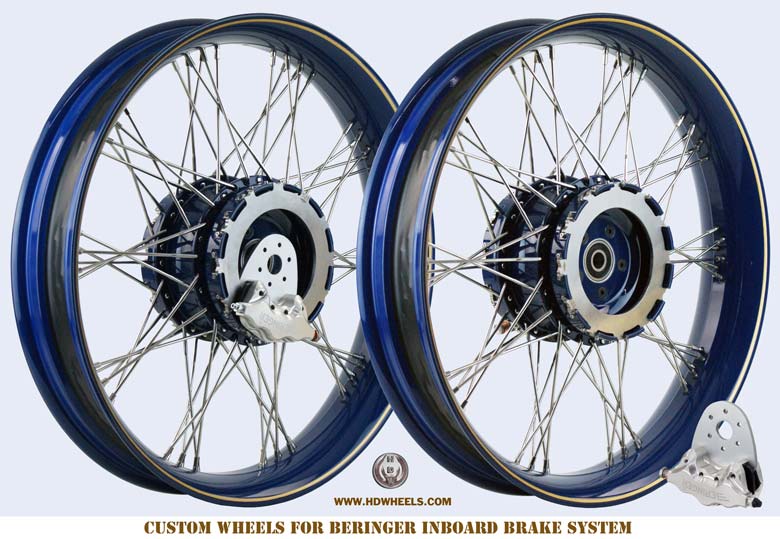 Custom spoke wheels for 2015 and up Indian Scout
HD Wheels presents a new direct replacement custom wire wheels for a 2015 & up Indian Scout. Specially designed hubs allow 40 and 60 spoke configuration which you can use either with stock or Harley-Davidson type (more variety) brake rotors. Good for stock ABS system. Set to run stock cushioned pulley. For those of you who want 80, 90, 100 or 120 spoke wheel configurations we have a solution as well, but pulley/sprocket (rigid mounted) and rotors will have to be switched to Harley style. Our wheels feature steel or aluminum rims, light weight billet aluminum hubs, and stainless steel spokes with almost infinite configuration options of style and finish. Custom spoke wheels will add unique touch to your bike.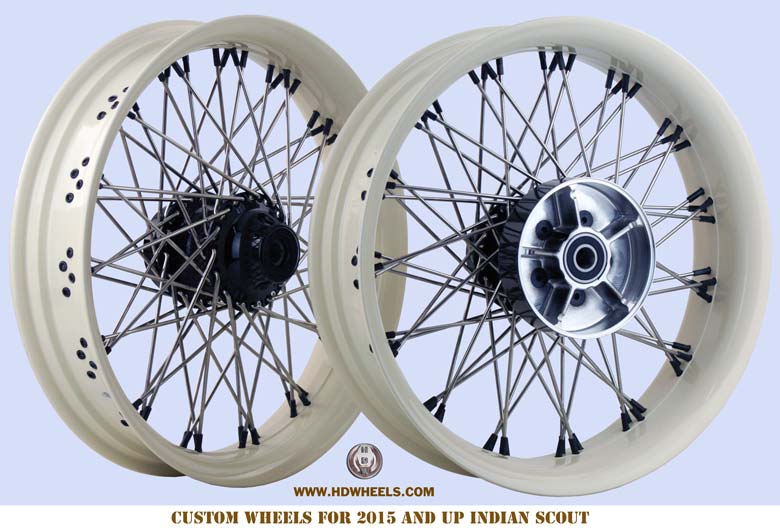 Wheels for Harley-Davidson Street XG-500 and XG-750

HDW offers custom spoke wheels for a new Street line of Harley Davidson motorcycle ( Street XG-500 and XG-750). Our custom wheels will give a new look and will set your bike apart from the factory one. The choice of finishes and lacing patterns creates a great variety of choices starting with 40, 60, 80, 100 and 120 spoke configuration, and ending with a finish of your choice.

160/60-18 (custom) VS 140/75-15 (stock) rear tire

Front fender risers (FR-XG) allow to install stock fender when installing 18" and 19" wheel on Street XG500 / XG750
Tire & Wheel packages




We can complete your wheel with a tire

Let us install Metzeler, Dunlop, Avon or any other tire for you. We guarantee that a tire will be installed without any scratches on the rim. Installation includes inner tube and Internal Dyna Beads balancing (no ugly spoke weights on the wheel). As an option, we can fill your tire with Nitrogen.




200/55-17 (Dunlop) and 120/70-21 (Metzeler)

Custom White Wall tires for 16", 17", 18", 19" and 21" wheels.


Can't find a Wide White Wall or a Narrow Stripe in particular tire size? We have a solution! Custom White wall from 1/4" to 2.5" wide, and not only a White Wall; we can offer Gold, Blue or Red Wall as well. A special formulated 3 layer process prevents White Wall from turning to a yellow one.
Upon request Dual Stripe is available.

Whitewall cleaning:

We recommend frequent cleanings with an abrasive cleaning pad. A fine or medium sanding sponge works well. Any good cleaner works good (Castrol Super Clean, 409, Simple Green, Grease Lightning, ...). Avoid cleaners that contain bleach like whitewall cleaner. It gets them clean alright, but what your will notice over time is that the whitewalls start to get dried out and lose that nice "smooth and shiny" surface quality (which also makes them easy to clean). Prolonged use of these cleaners can "dry" the whitewall surface. Never use products such as Armor All on whitewall. This can cause discoloration, too. Whitewall surfaces tend to "dry" with time, heat, ozone, etc. A vigorous cleaning periodically will get rid of the dry surface and help maintain the tires beauty. Don't be afraid to scrub.
Custom Spoke Pulley
A Real Spoke Pulley made according to our high standards. We have reviewed the existing similar products on the market and have eliminated weak points as drilled sprocket, increased the cross of the spokes from 1 to 5! (standard Harley is cross 4), and use same spokes as on our wheels.
Available in sizes of 70 Tooth (1 1/8" Belt) and 66 tooth (3/4" and 1" belt)

All parts of a pulley can be finished individually.

1. Belt guard rings

2. Belt guard screws

3. Sprocket carrier

4. Nipples

5. Spokes

6. Hub

66 and 68 Tooth Billet Pulleys

20mm and 1"

for a 2007-2014 Harley Davidson

Finishing:

Powder coated, Chrome Plated,

Black Nickel plated and more.
Design Lacing Styles

Blade-48 (40 Spokes)

S-Cross (40 Spokes)

S-Cross (60 Spokes)

Cross-Radial (60 Spokes)

S-Cross

-Radial (60 Spokes)

S-Cross (80 Spokes)

Fan-6 Radial (120 Spokes)

B-Cross-Radial (90 Spokes)

Cross-Radial (120 Spokes)

R

adial (100 and 120 Spokes)

Warning: Radial and Fan-6 laced wheels are designed for show bikes. This type of lacing is not as strong as the cross laced one. Riding on such wheels has to be more delicate avoiding rapid accelerations and stopping (High Torque moments).

Fill you tires with Nitrogen (N2)


If you are one of the 85% of Americans who doesn't regularly check tire pressure, you need nitrogen.

Proper tire pressure results in longer wearing tires and improved gas mileage.

Nitrogen inflated tires maintain proper pressure longer

The air we breathe - The air that's in your tires

Atire filled with "plain old air" can lose 1.5 psi in less than a month With nitrogen, it can take up to six months to lose 1.5psi

Draining water from your air lines every day helps, but unless you have a really efficient air dryer, chances are there's a lot of water in your compressed air

Oxygennreacts and damages inner tire liners and belt packages; nitrogen does nott

Small bits of corrosion from wheels can prevent valves from seating properly, leading to lossSmall bits of corrosion from wheels can prevent valves from seating properly, leading to loss




of air pressure.

NASCAR and IndyCar teams use nitrogen because it allows them to more accurately predict tire pressure fluctuation.

Graphics provided by Bridgestone/Firestone

We can fill you tires with Nitrogen (N2) for $5 per tire.

We will also include nice chrome plated cap with N2 logo.